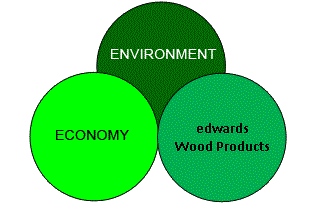 Timber Procurement
edwards Wood Products buys and sells land and timber for the explicit use in our daily operations.
It is a fundamental belief at edwards Wood Products, Inc that it is everyone's responsibility to help maintain our natural resources, therefore our business impact on our natural resources is based on the premise that responsible environmental behavior and sound business decisions can co-exist. We strive to practice sustainable forestry on lands we manage so that needs can be met not only in the present but also in the future.
Sustainability of our natural resources has a direct affect on things such as: clean water, wildlife and an overall positive impact to the ecosystem. Bad forestry habits can cause: poor soil, erosion, increase fire hazards, displace wildlife and have an overall negative impact on the ecosystem. edwards Wood Products focuses on having an overall positive impact on the ecosystem.
We believe that although our forests are a sustainable natural resource, they must be maintained by well trained foresters.
We currently are interested in buying your timber in North Carolina, South Carolina and the extreme southern Piedmont of Virginia. Please contact one of our foresters listed below for more information or submit a request using our Information Request Form.
We currently do not have any land available for hunt leases.
| | | |
| --- | --- | --- |
| Tommy Adkins | | Travis Priest |
| (910) 280-0945 | | (910) 840-7327 |
| | | |
| --- | --- | --- |
| | | Mark Allen |
| | | (910) 995-7600 |
| | | |
| --- | --- | --- |
| Jason Lefler | Tony Brown | Bruce Baker |
| (704) 242-3327 | (704) 291-0135 | (704) 221-6586 |
| | |
| --- | --- |
| Scott Howell | Luke Wilson |
| (336) 552-9791 | (336) 553-7180 |